Hanukkah begins sundown on December 7, 2023
Terms Of Service
Terms of Service
This website www.floraonthemenorah.com (the "Site") is operated by Festive Traditions, LLC (referred to herein as "Festive Traditions," "we," "us," and "our").  By visiting the Site and/ or purchasing a product from us, you are agree to be bound by the following terms and conditions (the "Terms of Service"), including those additional terms and conditions and policies referenced herein and/or available by hyperlink. These Terms of Service apply to all visitors and users of the Site, including without limitation users who are browsers, vendors, customers, merchants, and/ or contributors of content.  In these Terms of Services, "user" or "you" means any user or visitor of the Site or purchaser of any products offered on the Site.
Please read these Terms of Service carefully before accessing or using our Site.   If you do not agree to all the terms and conditions set forth herein, then you may not access the Site or use any services available thereon, including, but not limited, purchasing products. 
Any new features or tools which are added to Site shall also be subject to the Terms of Service. You can review the most current version of the Terms of Service at any time on this page. We reserve the right to update, change or replace any part of these Terms of Service by posting updates and/or changes to our Site.  It is your responsibility to check this page periodically with respect to any such changes. Your continued use of or access to the Site following the posting of any changes constitutes acceptance of those changes.
The purchase of products available on our Site is facilitated by a third party, Shopify, which provides us with the online e-commerce platform that allows us to sell our products to you (the "Store").  Shopify's terms of service found [here] shall supersede these Terms of Service with respect to your access and use of Shopify's website www.shopify.com, for the purpose of finalizing your purchase and remitting payment.
SECTION 1 – PRODUCTS
Festive Traditions' "Flora On The Menorah" product line (the "Products") are available for purchase via the Store accessible through the site and are generally not available for purchase through any other means.
Products may have limited quantities and are subject to return or exchange only according to our Return Policy set forth in Section 3 hereof.  We expressly reserve the right to discontinue any Products at any time.  
We have made every effort to display as accurately as possible the colors and images of our Products that are featured on the Site and in the Store; however, we cannot guarantee that your computer's or other electronic device's display of color, texture and/or pattern will be accurate.  
SECTION 2 – PRODUCT ORDERING
Products may be purchased from using the following forms of payment: American Express, Apple Pay, Diner's Club, Discover, Elo, Google Pay, JCB, Mastercard, Shop Pay and Visa.
All in-stock Products will be shipped once credit card authorization and verification have been obtained by Shopify. If an item you ordered is temporarily unavailable, we will immediately advise you when to expect delivery.
Sales/use state and local taxes will be collected upon purchase, based on the order's "ship to" address where required by law. Sales tax will also be applied to shipping and handling charges where required by law. The sales tax displayed at checkout is estimated and the final applicable tax will be calculated when your order is shipped. All applicable taxes will be clearly displayed on your final invoice.
Orders may be remitted through www.floraonthemenorah.com.  If you are a merchant who desires to purchase a bulk order of Products for the purposes of re-sale, please contact us at floramenorah@gmail.com.  
SECTION 3  - RETURN POLICY
Festive Traditions will accept returns and exchanges of (1) defective Products; (2) Products damaged during shipping; and (e) unopened Products in saleable condition within three days of purchase. Returns will be credited to your original form of payment.  
Products may be returned by mail in accordance with the following process:
Include your original receipt with your package (noting reason for return on the back)

Securely seal the original receipt and the Product(s) you are returning in its original shipping container or other clean and sturdy packaging.

Ship the package via USPS. We will refund shipping costs up to $5/item.
You may label the package yourself and ship it, pre-paid and insured, using the shipping provider of your choice to: 224 Summer St., Framingham, MA 01701. 
Please allow up to two billing cycles for refunds to appear on your credit card statement. Original shipping and handling fees are non-refundable.
SECTION 4 – INTELLECTUAL PROPERTY
The Site and Site Content are the sole and exclusive property of Festive Traditions (with the exception of materials where rights are specifically attributed to a third party), all rights reserved, and protected under U.S. and International copyright laws.  For the purposes of these Terms of Service, "Site Content" means any and all photographs, text, ideas, concepts, treatments, formats, artwork, drawings, videos, audiovisual works, sound recordings, software code, reports, tables, charts, and/or similar materials that are submitted, posted, uploaded, embedded, displayed, distributed, communicated or otherwise added to the Site and the Store, excluding such materials where rights are specifically attributed to a third party.  Except as we may specifically agree to in writing, no Site Content may be used, copied, reproduced (including, without limitation, the copying, transmitting, or saving of digital files), displayed, distributed, modified, or used to create a derivative work.  You will not (i) frame or embed the Site or introduce any virus, worm, spyware, or any other computer code, file or program that may or is intended to damage or hijack the operation of any hardware, software or telecommunications equipment, or any other aspect of the Site or the operation of the Site; or (ii) scrape, spider, use a robot or other automated means of any kind to access the Site Content.  Any unauthorized use of Site Content is a federal offense and will be prosecuted to the fullest extent of the law.  
All trademarks, slogans, service marks, trade names, and trade dress appearing on the Site and/or Site Content are proprietary to Festive Traditions and/or our partners, affiliates, licensors or licensees.  Festive Traditions may change the Site or delete or modify Site Content or the selection of Products at any time, in any way, for any reason. 
If you have any questions about the Site Content or want to request permission to use any Site Content, please contact us at floramenorah@gmail.com.
Festive Traditions and/or the principal thereof is the sole and exclusive owner of the copyright in the literary work titled "Flora on the Menorah" and in the design of the "Flora on the Menorah" menorah and flower character toys and holds all right, title and interest therein.  You are not authorized to replicate the design of the Products, create derivative works of the Products, or exercise any other right that Festive Traditions or its affiliates possesses as the sole holder of such copyrights, and you acknowledge and agree that your undertaking of any such activities shall constitute copyright infringement. 
SECTION 5 - THIRD-PARTY LINKS
The Site may have links to web sites owned and operated by advertisers and other third parties not affiliated with Festive Traditions (the "Linked Sites").  We do not control or monitor the Linked Sites and shall not be responsible for any materials, information, or content posted on the Linked Sites. The inclusion of the Linked Sites on the Site does not imply any endorsement or sponsorship by us of the Linked Sites and the content, products and services featured therein. You are solely responsible for your access of the Linked Sites and any interactions and transactions you engage in as a result of such access. 
Please carefully review the policies and practices associated with any Linked Sites and make sure you understand them before you engage in any transaction as their terms of service and/or privacy policies may differ substantially from ours. Complaints, claims, concerns, or questions regarding third party websites, products and/or services should be directed to the applicable third party(ies).
SECTION 6 – DISCLAIMERS, INDEMNIFICATION, LIMITATION OF LIABILITY
(a)  DISCLAIMERS
SUBJECT TO APPLICABLE LAW, THE SITE CONTENT OR CONTENT OTHERWISE RELATED IN ANY WAY TO THE SITE OR ANY THIRD PARTY SITES OR SERVICES LINKED TO OR FROM THE SITE ARE PROVIDED "AS IS" AND WITHOUT CONDITIONS OR WARRANTIES OF ANY KIND.  TO THE FULLEST EXTENT PERMISSIBLE PURSUANT TO APPLICABLE LAW, WE DISCLAIM ALL CONDITIONS AND WARRANTIES, EXPRESS OR IMPLIED, INCLUDING, SUBJECT TO APPLICABLE LAW, THOSE OF MERCHANTABILITY, FITNESS FOR A PARTICULAR PURPOSE, ACCURACY, COMPLETENESS, AVAILABILITY, SECURITY, COMPATIBILITY AND NONINFRINGEMENT. WE DO NOT WARRANT THAT ANY SITE CONTENT WILL BE ERROR-FREE, THAT ACCESS THERETO WILL BE UNINTERRUPTED, THAT DEFECTS WILL BE CORRECTED, OR THAT THE SITE OR THE SERVERS THAT MAKE SUCH SITE CONTENT AVAILABLE ARE FREE OF VIRUSES OR OTHER HARMFUL COMPONENTS. MOREOVER, SUBJECT TO APPLICABLE LAW, YOU ASSUME THE ENTIRE COST OF ALL NECESSARY SERVICING, REPAIR OR CORRECTION OF HARM SUSTAINED BY YOU OR YOUR PROPERTY DIRECTLY OR INDIRECTLY RESULTING FROM YOUR USE OF THE SITE. WE DO NOT WARRANT OR MAKE ANY REPRESENTATIONS REGARDING THE USE OR THE RESULTS OF THE USE OF ANY SITE CONTENT.  APPLICABLE LAW MAY NOT ALLOW THE EXCLUSION OF IMPLIED WARRANTIES, SO THE ABOVE EXCLUSION MAY NOT APPLY TO YOU. YOU HEREBY IRREVOCABLY WAIVE ANY CLAIM AGAINST US WITH RESPECT TO SITE CONTENT AND ANY CONTENT YOU PROVIDE TO THIRD PARTY SITES (INCLUDING CREDIT CARD AND OTHER PERSONAL INFORMATION), TO THE FULLEST EXTENT PERMITTED BY APPLICABLE LAW. PLEASE NOTE, HOWEVER, THAT THIS DOES NOT AFFECT YOUR STATUTORY RIGHTS AS A CONSUMER, IN PARTICULAR THE LEGAL WARRANTY FOR LATENT DEFECTS FOR USERS WHO ACCESS THE SITE IN CERTAIN JURISDICTIONS.
Reliance on any information appearing on the Site is strictly at your own risk.
(b)  LIMITATION OF LIABILITY
SUBJECT TO APPLICABLE LAW, UNDER NO CIRCUMSTANCES, INCLUDING NEGLIGENCE, SHALL WE, OUR GROUP UNDERTAKINGS, OUR AND OUR GROUP UNDERTAKINGS' PARTNERS, LICENSORS OR LICENSEES, OR ANY OF THE FOREGOING ENTITIES' RESPECTIVE RESELLERS, DISTRIBUTORS, SERVICE PROVIDERS OR SUPPLIERS, BE LIABLE TO YOU OR ANY OTHER PERSON OR ENTITY FOR ANY DIRECT, INDIRECT, INCIDENTAL, SPECIAL OR CONSEQUENTIAL DAMAGES INCLUDING LOST PROFITS, PERSONAL INJURY (INCLUDING DEATH) AND PROPERTY DAMAGE OF ANY NATURE WHATSOEVER, THAT RESULT FROM (A) THE USE OF, OR THE INABILITY TO USE, THE SITE OR SITE CONTENT, (B) THE CONDUCT OR ACTIONS, WHETHER ONLINE OR OFFLINE, OF ANY USER OF THE SITE OR ANY OTHER PERSON OR ENTITY, or (C) YOUR INTERACTIONS WITH SHOPIFY, INCLUDING, BUT NOT LIMITED TO, YOUR REMITTANCE OF PERSONAL AND PAYMENT INFORMATION.  SUBJECT TO APPLICABLE LAW, IN NO EVENT SHALL OUR TOTAL LIABILITY TO YOU FOR ALL DAMAGES, LOSSES AND CAUSES OF ACTION WHETHER IN CONTRACT, TORT (INCLUDING NEGLIGENCE) OR OTHERWISE EXCEED THE AMOUNT PAID BY YOU, IF ANY, OR $100 (WHICHEVER IS LESS) FOR ACCESSING THE SITE. MOREOVER, SUBJECT TO APPLICABLE LAW, UNDER NO CIRCUMSTANCES SHALL WE, OUR LICENSORS OR LICENSEES, OR ANY OF THE FOREGOING ENTITIES' RESPECTIVE RESELLERS, DISTRIBUTORS, SERVICE PROVIDERS OR SUPPLIERS, BE HELD LIABLE FOR ANY DELAY OR FAILURE IN PERFORMANCE RESULTING DIRECTLY OR INDIRECTLY FROM AN ACT OF FORCE MAJEURE OR CAUSES BEYOND OUR OR THEIR REASONABLE CONTROL.  WITH RESPECT TO USERS WHO ACCESS THE SITE IN CERTAIN JURISDICTIONS, THIS SECTION DOES NOT AFFECT YOUR STATUTORY RIGHTS AS A CONSUMER UNDER APPLICABLE LAW.
SUBJECT TO APPLICABLE LAW, WE MAY TERMINATE YOUR FURTHER ACCESS TO THIS SITE OR CHANGE THE SITE OR DELETE SITE CONTENT (INCLUDING THE PRODUCTS OFFERED) OR FEATURES IN ANY WAY, AT ANY TIME AND FOR ANY REASON OR NO REASON WITHOUT LIABILITY.
NO CLAIMS, REPRESENTATIONS OR WARRANTIES, WHETHER EXPRESS OR IMPLIED, ARE MADE BY FESTIVE TRADITIONS WITH RESPECT TO THE SAFETY, RELIABILITY, DURABILITY, AND PERFORMANCE OF THE PRODUCTS ORDERED BY YOU.  IN NO EVENT SHALL FESTIVE TRADITIONS BE LIABLE FOR ANY DIRECT, INDIRECT, PUNITIVE, INCIDENTAL, SPECIAL OR CONSEQUENTIAL DAMAGES TO PROPERTY OR LIFE WHATSOEVER ARISING OUT OF OR CONNECTED WITH THE USE OR MISUSE OF THE PRODUCTS.  YOU AGREE TO INDEMNIFY, DEFEND, AND HOLD HARMLESS FESTIVE TRADITIONS, AND ITS AFFILIATES, PARTNERS, LICENSEES, AND ASSIGNEES FROM AND AGAINST ANY LOSSES, DAMAGES, AND CLAIMS DIRECTLY OR INDIRECTLY RELATING TO OR RESULTING FROM YOUR PURCHASE OF PRODUCTS.  
(c)  THE LIMITATIONS, EXCLUSIONS AND DISCLAIMERS IN THIS SECTION 6 AND ELSEWHERE IN THESE TERMS OF SERVICE APPLY TO THE MAXIMUM EXTENT PERMITTED BY APPLICABLE LAW.
SECTION 7 - USER COMMENTS, FEEDBACK AND OTHER SUBMISSIONS
If, at our request, you send certain specific submissions (for example, contest entries) or, without a request from us, you send creative ideas, suggestions, proposals, plans, or other materials, whether online, by email, by postal mail, or otherwise (collectively, "Comments"), you agree that we may, at any time, without restriction, edit, copy, publish, distribute, translate and otherwise use in any medium, any Comments that you forward to us. We are and shall be under no obligation (1) to maintain any Comments in confidence; (2) to pay you any compensation in consideration of your provision or our use of any Comments; or (3) to respond to any Comments.
SECTION 8 - PERSONAL INFORMATION
Your submission of personal information during the ordering process through the Store is governed by our Privacy Policy. To view our Privacy Policy. https://floraonthemenorah.com/pages/privacy-policy
SECTION 9 - TERMINATION
You may terminate these Terms of Service at any time by discontinuing your use of the Site.  If, in our sole judgment, you fail, or we suspect that you have failed, to comply with any term or provision of these Terms of Service, we may deny you the ability to order Products and/or block your access to the Store.
The obligations and liabilities of the parties incurred prior to the termination date shall survive the termination of these Terms of Service for all purposes.
SECTION 10 – JURISDICTIONAL AND VENUE MATTERS; GOVERNING LAW
(a)  Subject to the requirements of applicable consumer rights and other laws, you agree that any action at law or in equity arising out of or relating to these Terms of Service, the Site, the Site Content or the Products shall be filed, and that venue properly lies, only in state or federal courts located in the Commonwealth of Massachusetts, United States of America, and you hereby consent and submit to the personal jurisdiction of such courts for the purposes of litigating any such action.  Festive Traditions makes no representation that the Site is appropriate or available for use in any particular location. Those who choose to access the Site or order Products do so on their own initiative and are responsible for compliance with all applicable laws including any applicable local laws.
(b)  Subject to the requirements of applicable consumer rights and other laws, these Terms of Service shall be governed by and construed in accordance with the laws of the Commonwealth of Massachusetts and the laws of the United States, without giving effect to any principles of conflicts of law. If any provision of these Terms of Service shall be unlawful, void or for any reason unenforceable, then that provision shall be deemed severable from these Terms of Service and shall not affect the validity and enforceability of any remaining provisions.
(c)  No waiver of any provision of any term of these Terms of Service shall be deemed a further or continuing waiver of such provision or any other provision, and our failure to assert any right or provision under these Terms of Service shall not constitute a waiver of such right or provision. 
(d)  TO THE EXTENT PERMITTED BY APPLICABLE LAW, YOU AGREE THAT ANY CAUSE OF ACTION YOU MAY HAVE ARISING OUT OF OR RELATED TO THESE TERMS OF SERVICE, THE SITE, THE SITE CONTENT, OR THE PRODUCTS MUST COMMENCE WITHIN ONE (1) YEAR (OR THE MINIMUM REQUIRED PERIOD, IF LONGER) AFTER THE CAUSE OF ACTION ACCRUES; OTHERWISE, SUCH CAUSE OF ACTION SHALL BE PERMANENTLY BARRED.
SECTION 11 - CONTACT INFORMATION
Questions about the Terms of Service should be sent to us at floramenorah@gmail.com.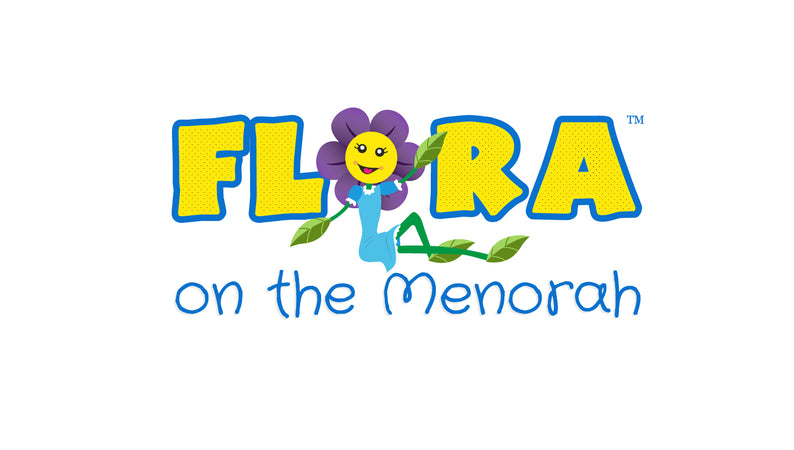 Follow us on social media and share your hanukkah joy!